السلام عليكم ورحمة الله وبركاته
أقدم لكم
SamDrivers 18.12 - Collection of drivers for Windows (x86x64) [Multi]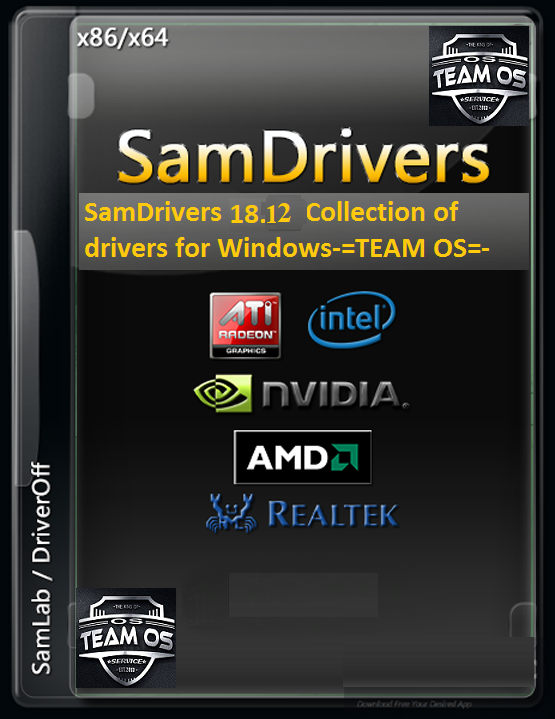 General Info:-
Version of the program: 18.12
Language: Russian, English and other
Treatment: not required
System requirements:
Any version of Windows from Windows 2000 to Windows 10 (32bit-64bit)
Description: Collection of drivers from SamLab.ws for all 32-bit and 64-bit Windows operating systems, starting from Windows 2000 and up to Windows 10 including server platforms. As the installer shells for auto-detecting your hardware and automatically installing the necessary drivers, we used specialized utilities: DriverPack Solution 16.17.6 Plus / Drivers Installer Assistant 8.02.20 / Snappy Driver Installer 1.17.8.1 / DRP 17.7.58 / Backup Drivers Backup shell Solution 3.90.21. The collection includes the most current drivers for the release date collected by SamLab personally. Do not confuse this package with the driver-packs from Bashrat'a - these drivers are newer and more stable.
Key features of the collection:
Support for 32/64-bit operating systems Windows XP / Vista / 7/8 / 8.1 / 10
The maximum set of drivers for PCs and laptops on one disk
Automatic installation of one-touch drivers and programs
Express diagnostics of your computer / laptop equipment
Backing up the drivers installed in the system
Friendly and responsive multilanguage interface
Ability to run the program from any media
Driver-packs included in the collection:
DP_Biometric_17075.7z
DP_Bluetooth_17075.7z
DP_CardReader_17081.7z
DP_Chipset_17081.7z
DP_LAN_Intel_17062.7z
DP_LAN_Others_17081.7z
DP_LAN_Realtek-NT_17075.7z
DP_LAN_Realtek-XP_17023.7z
DP_MassStorage_17075.7z
DP_Misc_17073.7z
DP_Modem_17024.7z
DP_Monitor_17081.7z
DP_Printer_17073.7z
DP_Sound_ADI_17000.7z
DP_Sound_CMedia_17063.7z
DP_Sound_Conexant_17081.7z
DP_Sound_Creative_17072.7z
DP_Sound_IDT_17000.7z
DP_Sound_Others_17075.7z
DP_Sound_VIA_17000.7z
DP_Sounds_HDMI_17075.7z
DP_Sounds_Realtek_17075.7z
DP_Telephone_17073.7z
DP_Touchpad_Alps_17076.7z
DP_Touchpad_Cypress_17000.7z
DP_Touchpad_Elan_17075.7z
DP_Touchpad_Others_17010.7z
DP_Touchpad_Synaptics_17075.7z
DP_TV_Aver_17072.7z
DP_TV_Beholder_17000.7z
DP_TV_DVB_17074.7z
DP_TV_Others_17075.7z
DP_Vendor_17076.7z
DP_Video_Intel-NT_17076.7z
DP_Video_Intel-XP_17073.7z
DP_Video_nVIDIA-NT_17076.7z
DP_Video_nVIDIA-XP_17000.7z
DP_Video_nVIDIA_Server_17074.7z
DP_Videos_AMD-NT_17076.7z
DP_Videos_AMD-XP_17000.7z
DP_Videos_AMD_Server_17075.7z
DP_Videos_Others_17073.7z
DP_WebCam_17081.7z
DP_WLAN-WiFi_17081.7z
DP_WWAN-4G_17075.7z
DP_xUSB_17073.7z
DP_zUSB3_17075.7z
DP_zVirtual_17075.7z
Check Sums:-
Name: SamDrivers_18.12.iso
Date: 23-11-2018
Size: 19.1 GB (3,407,075,328 bytes)
--------
SHA-1: 47bc6193cdda4b36605e8e45c0759a5cc106d833
MD5: 46e2c0a41524dd53f600cc799d877a74
CRC32: 2c761059
Download links
4gb links
https://4downfiles.org/60r0qw56tdqv
https://4downfiles.org/4ayirb1jt049
https://4downfiles.org/eufoz33q55dc
https://4downfiles.org/qi69e0dir6hk
https://4downfiles.org/ejrt9by5nt1r
or
https://uptobox.com/lpnh0smbkgdg
https://uptobox.com/dxara8d8q937
https://uptobox.com/oei2w9148g5g
https://uptobox.com/8pax8hy2e1ua
https://uptobox.com/4qfl5d9i4htm
1gb links
https://4downfiles.org/jpzzlgxyamjf
https://4downfiles.org/rfomgc5wac5b
https://4downfiles.org/yv1z2ta6u7ds
https://4downfiles.org/xsaszf6bc6f9
https://4downfiles.org/zjdg8th4eioi
https://4downfiles.org/3w8qljlopgaa
https://4downfiles.org/6ktw456it6q8
https://4downfiles.org/mac938g1sltj
https://4downfiles.org/j7mxutaz874g
https://4downfiles.org/0lqd0nptob53
https://4downfiles.org/ma91k215zukn
https://4downfiles.org/ns60eb49ynhg
https://4downfiles.org/p0va3r2wa410
https://4downfiles.org/9m1oy2ymrv9y
https://4downfiles.org/lzppg9yhkcu9
https://4downfiles.org/qp31e9xw4yj7
https://4downfiles.org/cz0ff75iuuzg
https://4downfiles.org/4yk33zw5fbnl
https://4downfiles.org/ky7q601jjtc8
or
[Multi].part1.rar.htmlhttp://fileflares.com/6rghn17mo2nm/S...0;x86x64)_
[Multi].part2.rar.htmlhttp://fileflares.com/mr6jofrkwowb/S...0;x86x64)_
[Multi].part3.rar.htmlhttp://fileflares.com/8qc3zaz47pbl/S...0;x86x64)_
[Multi].part4.rar.htmlhttp://fileflares.com/a6cx0t5221bs/S...0;x86x64)_
[Multi].part5.rar.htmlhttp://fileflares.com/lbikzaaq810w/S...0;x86x64)_
دمتم في رعاية الله