ASDIP Retain v4.5.1
For Sale, 20 Euro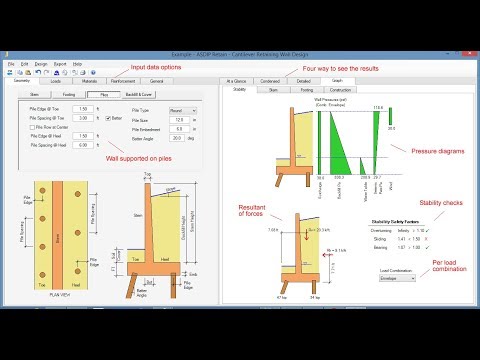 For Sale, 20 Euro
If interested contact me
Email:
*
PM :
Saadedin
Skype:
saadedin65
ASDIP Concrete v4.1.4
For Sale, 20 Euro
For Sale, 20 Euro
If interested contact me
Email:
*
PM :
Saadedin
Skype:
saadedin65
Code:
ASDIP CONCRETE Structural Engineering Software

ASDIP CONCRETE is structural engineering software utilized by engineers for design of structural concrete members, such as biaxial columns, continuous beams, and out-of-plane bearing walls.

ASDIP CONCRETE is based on the latest ACI 318 provisions. Load combinations per ASCE 7. ASDIP CONCRETE substantially simplifies time-consuming calculations for structural engineering design.

ASDIP CONCRETE 4 has been released, with great new features, such as editable load combinations, beam Design Manager, multiple load types, two-story bearing walls, masonry wall design, and more...



    Quickly model your concrete members with the simple and efficient graphical user interface.
    Confidently optimize your design and comply with design Code provisions.
    Impress clients and plan-checkers with eye-catching condensed or detailed reports.

    Extensive documentation, solved examples, and blog posts to guide you throughout the software.
    Use your valuable time wisely while ASDIP CONCRETE does the hard work for you.
    Much, much more...


Modeling:

    Any Windows® Operating System. No additional software required
    Full compliance with:

    IBC 12
    ACI 318-14
    ASCE 7-05 or 10

​

    Versatility to model a full set of load combinations, or just a single pre-combined load.
    Customizable design criteria, options, and special conditions.
    Three different unit systems available:

    US (in, ft, Kip, ksi)
    SI (cm, m, N, MPa)
    MKS (cm, m, Tn, Kg/cm2)

​

    Rich user interface to model the geometry, materials, loads and rebars.
    Multiple loading for dead, live, roof live, snow, wind and seismic.
    Model either rectangular, T-beam, spandrel, inverted-T, or L-beam cross sections.
    Model either rectangular or round column cross sections.
    You may copy loads and rebars to other spans in a continuous beam.
    Specify either Hognestad or Whitney concrete stress-strain.
    Specify either elasto-plastic or strain-hardening steel stress-strain.
    Model beams with up to 5 spans and 2 cantilevers. End supports either fixed or pinned.
    Multiple visual controls to model the reinforcing steel sizes, lengths, and spacing..

Calculation results:

    Sort results per span number and load combination for granular design check.
    Graphic display of 2D and 3D interaction diagrams in columns and walls.
    Graphic display of shear and moment diagrams in beams.
    Detailed calculation of magnified moments in columns and walls.
    Software finds the controlling combination for each condition to optimize design.
    Detailed step-by-step reports with exposed formulas and Code references.
    Combined text-with-values output message updated with each change.
    Outstanding high-quality output with Print Preview.
    Three ways to show the calculations with increasing level of information: At-a-Glance, Condensed, and Detailed.
    Construction sketch of your concrete member updated with each change.
    Generate the interaction diagram for any rotation angle of the cross section.
    Show / Hide the Pn-Mn diagram, splicing regions, and applied loads in the Graph tab.
    Show graphically any span, or the full continuous beam.

Usability:

    Project Manager handles calculations and files for you.
    You are in control of every single aspect of the design.
    Design your concrete members in minutes (not hours).
    Verify every design step quickly. Not a "black box".
    No silly assumptions or math shortcuts. Confident, accurate, and reliable results.
    Focus your attention on engineering, and let ASDIP CONCRETE handle all the mathematical complexity.
    Multiple calculations stored in a single project file.
    Safely create, organize, manage, and store your electronic calculations.