CardRecovery 5.30 build 1206 With Activator And Crackالبرنامج الرائع لاسترجاع الصور من كروت الذاكرة للجوالات و الكاميرات الرقمية التي تم فقدانها إما بمسحها او عن طريق الفورمات:

متطلبات تشغيل البرنامج علي جهازكSystem requirements
===
Minimum configuration:
- Pentium-III 1.0 GHz or a faster processor
- 265 MB of RAM
- 10 mB free hard disk space(NTFS partition)
- Windows Vista, XP, 7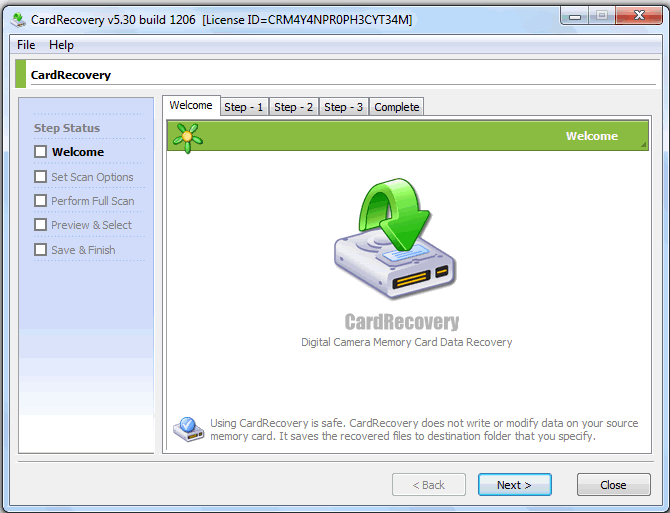 موقع البرنامجHomepage
===
خواص البرنامج CardRecovery Features
====
Recover deleted photos from memory cards.
Recover lost photos from memory cards.
Recover photos from formatted memory cards.
Recover photos from damaged, unreadable or defective memory cards.
Recover pictures from removable storage including floppy disks, Zip disks etc.
Recover images, audio/video, MP3/MP4 files from cellular phones, MP3 players, PDAs.
Supported Storage
Compact Flash card, CF card recovery
Memory Stick, Memory Stick Duo, Memory Stick Pro, Memory Stick Pro Duo recovery
Secure Digital card, SD card, SDHC, miniSD, MicroSD, TransFlash memory card recovery
MultiMedia card, MMC card recovery
SmartMedia, SM card recovery
xD Picture card recovery
Micro Drive, MicroDrive recovery
Cellular phone, PDA, MP3 and MP4 player digital media recovery
Floppy disk, Zip disk digital image recovery
Supported Situations
Photos deleted accidentally or intentionally from memory cards.
Photo loss due to formatting or "Delete All" operation.
Memory card error or damage, or inaccessible memory card.
Corruption due to the card being pulled out while your camera is on.
Damage due to turning your camera off during a write/read process.
Data corruption due to critical areas damage e.g. FAT, ROOT, BOOT area damage.
Data loss due to using between different cameras/computers/devices.
Other events that could cause damage to data.
Supported Photo Types
Common Picture Formats: JPG JPEG TIF GIF TIF PNG BMP
Common Video Formats: AVI MPG MOV MPEG ASF MP4 3GP MTS
Common Audio Formats: MP3 WAV
RAW Image Formats: Nikon NEF, Canon CRW and CR2, Kodak DCR, Konica Minolta MRW,
Fuji RAF,Sigma X3F, Sony SRF, Samsung DNG, Pentax PEF, Olympus ORF, Leica DNG,
Panasonic RAW and more.
Supported Camera Brands
Nikon, Canon, Kodak, FujiFilm, Casio, Olympus, Sony, SamSung, Panasonic
Fuji, Konica-Minolta, HP, Agfa, NEC, Imation, Sanyo, Epson, IBM, Goldstar
LG, SHARP, Lexar, Mitsubishi, Kyocera, JVC, Leica, Phillips, Toshiba, SanDisk
Chinon, Ricoh, Hitachi, Pentax, Kinon, Verbatim, Vivitar, Yashica, Argus, Lumix
Polaroid, Sigma and almost all digital camera brands in the market.
Supported Flash Memory Card Manufacturers
SanDisk, Kingston, KingMax, Sony, Lexar, PNY, PQI, Toshiba, Panasonic
FujiFilm, Samsung, Canon, Qmemory, Transcend, Apacer, PRETEC, HITACHI
Olympus, SimpleTech, Viking, OCZ Flash Media, ATP, Delkin Devices, A-Data
and almost all digital camera memory card brands in the market.
How to install and registerتسطيب البرنامج و طريقة تنشيطه
===
> Install the program in the default directory
> Use activator to register (as admin for Vista & 7) or paste craked exe in
program folder
> Enjoy your newly full registered application !

ملحوظة هامة
:
===
اداة التنشيط المرفقة مع البرنامج قد يتعرف عليها
برنامج الحمايةAntivirus
علي جهازك علي انها
شيء ضارMalware
بالجهاز لذلك يجب عمل اغلاق مؤقت لبرنامج الحماية لتتمكن من تفعيل البرنامج
من يخاف من عمل ذلك يستخدم
الكراكCRACK
و يقوم بنسخه في ملف تسطيب البرنامج و استبداله بالملف الاصلي الغير منشط.
DOWNLOADتحميل البرنامج
==