Net Transport v2.41 Build 364
Net Transport
(NetXfer) is a faster, exciting and the most powerful downloading toolthat you ever saw, now support the most pop Internet protocols,including:
HTTP / HTTPS

FTP / through SSL (

Secure Sockets Layer

) / SFTP (SSH File Transfer Protocol)

MMS (Microsoft Media Services)

RTSP (Real-Time Streaming Protocol)

PNM (rename PNM to RTSP)

BitTorrent
eMule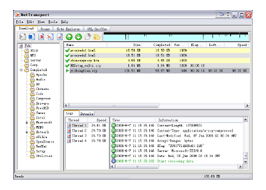 Howmany times you like to locally save the streaming media, and you can'tfind any appropriate tool to accomplish this simple task. Thanks to NetTransport (NetXfer), now it's a piece of cake to do it with the help ofthis magic tool. Net Transport can download MMS and RTSP streaming bymultiple threads with perfect video & audio quality. There are someother great features, like "Site Manager" which allows you to keep theactive connection with the remote servers. In addition, the support forboth SSL and SSH is hardly found in other upload/download tools.
Main Features
You can use the simple but powerful "File Manager" to categorize and manage downloaded files more efficiently.
Simple multi-user management. You can maintain several databases by logging on Windows with different username.
Youcan use the inbuilt "Site Explorer" to list the directory structure ofthe remote server, and easily select the desired files. FTP is the mostpowerful item in NetXfer.
FTPreuse mechanism allows you to use one connection to get different filesfrom the same site. If you like, you can use accessory FTP client toolcalled "FTP Transport (FtpXfer)".
The"Multiple Proxies mode" allows you to assign every working thread adifferent proxy to break certain site restrictions, like only oneconnection per IP.
Proxies with NTLM authentication can penetrate local firewall, like Microsoft ISA 2000.
You can adjust the bandwidth usage of Net Transport to ensure surf at the same time.
Monitorbrowser click. And you can add links through Internet Explorer extendedcontext menu, or drag links to the "drop zone" window, etc.
Net Transport can automatically shutdown the system or hang up the modem once all downloads are completed.
Multilingual support for the user interface. I will be glad if you help me localize NetXfer.
NTLM authentication is supported for both MMS and RTSP. In addition, RN5 authentication works for RTSP.
You can use multi-threads for both MMS and RTSP to significantly reduce the time of downloads.
Automatically parse streaming script such as .asx, .smi to acquire real URLs.
SupportSSL encryption for both HTTP and FTP, which is called https and ftps.Also support one-time password to protect your authenticationinformation. Normally password is in the form of clear text, which iseasily stolen by IP packet monitor tools. Presently NetXfer is the onlyone can download https streaming via SOCKS5.
Support SSH encryption , which is hardly found in other upload/download tools for Windows.
The flexible "Scheduler Manager" is also most powerful item in NetXfer . Even you can record the dynamic URL according to time and save it as your desire filename.
In version 2, you can record the clip with range.
On BitTorrent protocol, you can use proxy to download, upload by UPnP. NetXfer supports HTTP/HTTPS/UDP Tracker.
Supported OS: Win95 / Win98 / Win98SE / WinME / WinNT4 / Win2000 / WinXP / Win2003
تعليق البرنس
يعد هذا البرنامج من برامج التحميل القويه فهذا البرنامج يمكنك من تحميل كل ماتريد من الصفحه حتى قطع الفيديو التى تعرض
فى الصفحه وتتعب فى كيفيه تحميلها
هذا البرنامج قوى فى تحميل مفات التورنت وايميول وقى ايضا فى التعامل وع ملفات اف. تى. بى
Download:
Link (2.03 MB)