Win R7 EEE & Win R7 CD Edition PL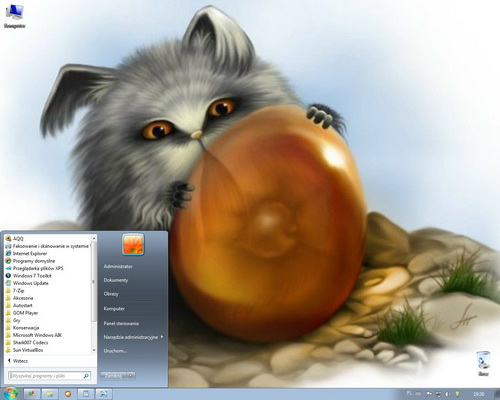 Quote:
I present to you the modifications Win R7 EEE based on Windows Se7en Ultimate 32-bit com.
The system has been cut and devoid of certain elements of making it faster and better exercise on weaker machines due to its size of an ISO image are also eligible for a Win CD Edition R7, because the image is only 699 mega 5% of my data recovery. Rar. During installation, enter your details and leaving only enter key (not enter) and omit activations, it has also been tight once the menu.
File: Win_R7_eee.iso - 699 mega
CRC-32: 861c26fe
MD4: 6e3f76935cbce3725e15effa911abb21
MD5: 9182729e7a0bce369d94ef72b92701f5
SHA-1: 065eb41efcc3327154134081f31be49a62d8fd7e
Removed:
Accessories
Availability, Games, Mobility Center, Speech, Windows Sidebar and gadgets.
Drivers
Diva Server Modems, Scanners, TV Tuners.
Languages
all.
Multimedia
Media Center, Music and Video samples Sample pictures, animations, SideShow, Sound Recorder, Windows Media Codecs Windows Media Player.
Network
Connect to a Network Projector Internet Information Services (IIS), Remote Desktop and Assistance, Remote Desktop Client, Simple Network Management Protocol (SNMP) Simple TCPIP services, Telnet Client, Telnet Server, TFTP Client Windows Collaboration, Windows Mail.
Services
Diagnostics, Error Reporting, Offline Files, Remote Registry, Routing and Remote Access, TPM Base Services, Windows Search,
System - BitLocker Drive Encryption, Crash Dump Support, Digital Rights Management (DRM), Help, Support IMAPIv2 Burning, Manual Install (Setup.exe) Microsoft Message Queue (MSMQ), Natural Language, Parental Control, Performance Counters, Reliability and Performance Monitor Remote Differential Compression, Security Center, Software Quality Management (SQM) Sync Center System Restore Tablet PC Windows Defender Windows Easy Transfer Windows SAT (Performance Index).