بوركاته
Mass Downloader 3.2 Build 651 Service Release 2
MetaProducts Mass Downloader (MD)
is a Windows 95/98/ME/NT/2000/XP/2003/Vista download manager application that makes it easy to download individual files (or lists of files) from Internet sites at the maximum available speed. Download resume is supported. Multiple channels technology significantly reduces download time.
Mass Downloader supports a wide range of protocols: HTTP, HTTPS, FTP, RTSP, MMS, MMST. The support of stream protocols makes it simple to download stream video and audio for offline viewing.
MD also allows you to browse Zip archives before loading them and to choose only the desired files to download.
Homepage
http://www.metaproducts.com
الانظمة المتوافقه مع الإصدارة :
95/98/ME/NT/2000/XP/2003/Vista
Size: 1.59 MB
Download
Patch
Mirror
ملاحظة : لتحميل البلغ إن الخاص بفاير فوكس و نت سكيب لعمل البرنامج معهم
اضغط هنا
Click here
::::::::::::::::::::::::::::::::
Internet Download Manager 5.02 Build 4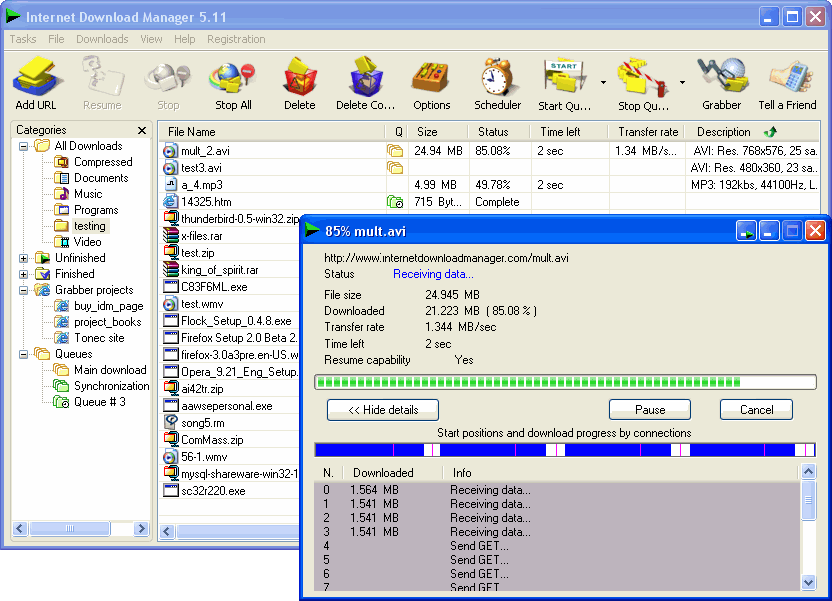 Internet Download Manager has a smart download logic accelerator that features intelligent dynamic file segmentation and safe multipart downloading technology to accelerate your downloads. Unlike other download accelerators and managers that segment files before downloading starts, Internet Download Manager segments downloaded files dynamically during download process. Internet Download Manager reuses available connections without additional connect and login stages to achieve better acceleration performance.
Internet Download Manager supports proxy servers, ftp and http protocols, firewalls, redirects, cookies, directories with authorization, MP3 audio and MPEG video content processing, and a large number of directory listing formats. IDM integrates seamlessly into Microsoft Internet Explorer, Netscape, MSN Explorer, AOL, Opera, Mozilla, Mozilla Firefox, Mozilla Firebird, Avant Browser, MyIE2, and all other popular browsers to automatically handle your downloads. You can also drag and drop files, or use Internet Download Manager from command line. Internet Download Manager can dial your modem at the set time, download the files you want, then hang up or even shut down your computer when it's done.
Other features include multilingual support, zip preview, download categories, built-in download accelerator, scheduler pro, sounds on events, HTTPS support, queue processor, pipelining of ftp commands, html help and tutorial, enhanced virus protection on download completion, progressive downloading with quotas (useful for connections that use some kind of fair access policy or FAP like Direcway, Direct PC, Hughes, etc.), command line parameters, and many others.
Homepage
http://www.internetdownloadmanager.com
Size: 1.79 MB
Download
Mirror
الكراك بالمرفقات + اللودر الخاص به
ملاحظة البرنامج يدعم اللغة العربيه
Arabic

, Bosnian, Bulgarian, Chinese, Croatian, Czech, Danish, Dutch, French, German, Hungarian, Italian, Japanese, Lithuanian, Macedonian, Polish, Portuguese, Romanian, Russian, Slovenian, Spanish, Thai languages.

​
​
:::::::::::::::::::::::::::::::::::::::::
​
Fresh Download 7.46
​

​
Fresh Download is an easy-to-use and
very fast download manager that turbo charges downloading files from the Internet, such as your favorite freeware and shareware, mp3 files, movie files, picture collections, etc. Unlike any other similar utilities, this software is 100% free, no charges, no banners (which steal your bandwidth), no spyware inside it.
ما يميز هذا البرنامج عن مثيلاته بأنه يدعم تقريباً جميع انواع الانتي
فايروس لتعمل معه بتوافقيه
Antivirus support. Scan downloaded files from any viruses using your current antivirus software.
البرنامج خالي من اي بنر دعائي و لا يحتوي اي سباي وور كما تدعي الشركة :5998:
علماً ان معظم برامج الدونلووود تحتوي سباي وور
مثل فلاش غيت و دون لوود اكسليريتر
كما أن
البرنامج متوافق للعمل مع المتصفحات التاليه
Easy integration into
Internet Explorer, Mozilla Firebird and Firefox, Netscape Communicator, Opera, Avant Browser, Crazy Browser, Maxthon / MyIE2, Slim Browser
, in any Windows operating system (95, 98, Me, NT, 2000, and XP).
Homepage
http://www.freshdevices.com
Size: 1.71 MB
Download
Registration
::::::::::::::::::::::::::::::::::::::::::::::
Feature Highlights:
- Dockable windows: re-configure the section of the GetGo window the way you want.
- Interface themes: 7 new themes to choose from for your GetGo window layout. You can also setup your own color scheme for GetGo.
- Tree list view with state based categorization of your downloads; now you can prioritize, sort on status, and assign user-defined categories to any download.
- Image viewer: Display your downloaded images in GetGo.
- Download priority: set multiple download tasks to "pending" and prioritize the downloads so that preference can be set for important downloads.
- IE toolbar integration: a GetGo toolbar that is integrated in to your browser for fast and easy downloading.
- Enhanced batch downloading to download a large list of files and automatically rename them using a filename pattern template.
- Leech download capability: a faster and more convenient way of getting all the downloads you need from an entire web page.
- Record streaming video: set up and automatically record MMS video recordings and have them play on Windows Media player.
- Resume Support - Resume broken downloads (on supported servers)
- Virus Check - You can configure GetGo to scan your downloads with your favourite Anti-Virus Software
- NO Ads or Spyware! - Feel safe using GetGo as it contains no ads or spyware!
- Bandwith Pane - Show how much bandwidth you are actively using when downloading files
- Speed Enhanced - Maximize your bandwidth for an increase in download speeds of up to 300%
Homepage
http://www.getgosoft.com
Size: 3.78 MB
Download Full
::::::::::::::::::::::::::::::::::::::::
FlashGet 1.71
من أشهر برامج التحميل و ينصح للتحميل به
من اشهر المواقع للبرامج الكامله و خاصة المواقع
الصينيه TTdown , FixDown و غيرها
كما يحتوي البرنامج على ميزة تصفح السيرفرات FTP
و الكثير من الميزات الأخرى
New in FlashGet Version 1.71 ....2005.8
FlashGet is specifically designed to address two of the biggest problems
when downloading files:
Speed and management of downloaded files. FlashGet can split downloaded files into sections, downloading each section simultaneously, for an increase in downloading speed from 100% to 500%. This, coupled with FlashGet's powerful and easy-to-use management features, helps you take control of your downloads like never before. FlashGet supports over 30 languages!
Homepage
http://www.amazesoft.com
Size: 2.39 MB
Download
Registration
Mirror
Mirror
::::::::::::::::::::::::::::::
ReGet Deluxe 4.2 Build 263 RC
برنامج قوي و ينصح بإستخدامة كثيراً و يعتبر
اقل برامج التحميل و انظفها من ناحية إصابته بالــ سبي وور
ReGet Deluxe is the powerful download manager for downloading from Internet with the unmatched speed. Incredible speed is achieved by splitting the files being downloaded into sections and downloading these sections at the same time. Improve your download experience by 3-5 times faster downloads, easy installation and seamless integration with all popular browsers.
ReGet Deluxe resumes broken downloads from FTP, HTTP and HTTPS servers, from online data storages. It saves your time because you never have to download again what you already have on your hard-drive. Advanced integration system lets work with all types of links, including forms and redirection scripts.
Unmatched Scheduler, Site Manager and History features have been added for the "natural born" downloaders and help schedule and organize your downloads your way!
Beside dramatically increasing speed of your downloads, wherever you have Cable/ADSL or dial-up connection, dial-up users can utilize the built-in dial-up integration to schedule dialing up to your ISP, downloading and then hanging up. Built-in Search pane helps you to find music in MP3 format and other files.
Homepage
http://deluxe.reget.com

Size: 1.99 MB
Downnload
Registration
Download Plugins and HTTPS Module
Download ReGet Deluxe 4.1 Build 250 (Stable)
:::::::::::::::::::::::::::::::::::::::
DAP 8.0.3.5 Final Premium
للتحميل تجدونها بمشاركة الأخ حسام arabian knight
http://www.damasgate.com/vb/showthread.php?t=54629
::::::::::::::::::::::::::::::
Free Download Manager 1.9 Build 335
Free Download Manager (FDM) is a full-featured freeware downloading program. It allows you to download files and whole web sites from any remote server via HTTP, HTTPS and FTP. With FDM the downloading process will be as easy as never! With FDM you needn't start the downloading from the beginning after casual interruption. You can resume unfinished download from the place where it have been interrupted. Also this program warns you if some servers don't support download resuming. It allows you to make a decision about the downloading. So with FDM you save your time and money.
Free Download Manager never downloads the whole file at once. It splits files into several sections and then downloads them at the same time allowing you to increase your download speed up to 600%. Free Download Manager can be used to organize your downloads, set the connection, launch the programs. Features of the download manager include: easy integration with Internet Explorer and Opera, powerful scheduler, antivirus integration, adjusting traffic usage, resuming downloads, downloading complete websites...
What's new in version 1.9 build 335:
[-] Export downloads in the list didn't work
[-] Sometimes HTML Spider didn't download images
Homepage
http://www.freedownloadmanager.org
Size: 1.39 MB
Download
Mirror
ولمن يحب تحميل التعريب للبرنامج
Arabic translation
لمن يرغب بمزيد من اللغات بإمكانه الدخول من هنا
http://www.freedownloadmanager.org/download.htm
:::::::::::::::::::::::::::::::
InstantGet 2.00
InstantGet provides rich management features, that make it easier to organize your downloads and manage proxies and sites. InstantGet has many convenient features especially for downloaded files; Downloaded files could be searched by URL, filename or comment; Features found in windows explorer could be found in InsteantGet too, right click on the downloaded files to popup an extended explorer context menu.
InstantGet supports ftp and http protocols, proxy servers, file redirects, cookies, directories with authorization, InstantGet integrates seamlessly into Microsoft Internet Explorer to automatically handle your downloads and can monitor clipboard. You can also drag and drop download URLs or use InstantGet from command line. InstantGet is capable of creating unlimited numbers of categories for your files. Download jobs can be placed in specifically-named categories for quick and easy access.
InstantGet is "Spyware", "Adware", and "Stealware" free!
Changes in Version 2.00 [May-16-2005]
- Fixed: Some fonts showing incorrectly in some non-English languages.
- Improved icons in the toolbars and menus (special thanks to Keyvan Barband).
- Added: Auto save listed jobs every 5 minutes.
- Added: New option "Change File Date and Time From Server".
- Small enhancements and a few bugs fixed.
Homepage
http://www.instantget.com
Size: 913 KB
Download
Registration
::::::::::::::::::::::::::::::::::::::::
خالص تحياتي
​