The Royal Marsden Hospital Manual of Clinical Nursing Procedures 9th Edition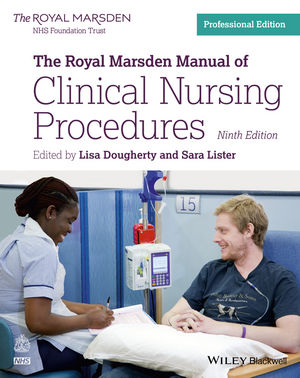 Nationally recognised as the definitive guide to clinical nursing skills, The Royal Marsden Manual of Clinical Nursing Procedures has provided essential nursing knowledge and up-to-date information on nursing skills and procedures for over 30 years. Now in its 9th edition, this full-colour manual provides the underlying theory and evidence for procedures enabling nurses to gain the confidence they need to become fully informed, skilled practitioners.
Written with the qualified nurse in mind, this manual provides up–to–date, detailed, evidence–based guidelines for over 200 procedures related to every aspect of a person′s care including key information on equipment, the procedure and post-procedure guidance, along with full colour illustrations and photos.
Following extensive market research, this ninth edition:
contains the procedures and changes in practice that reflect modern acute nursing care
includes thoroughly reviewed and updated evidence underpinning all procedures
is organised and structured to represent the needs of a patient along their care pathway
integrates risk-management into relevant chapters to ensure it is central to care
contains revised procedures following 'hands-on' testing by staff and students at Kingston University
Series: Royal Marsden Manual Series
Paperback: 1032 pages
Publisher: Wiley-Blackwell; 9 edition (March 30, 2015)
Language: English
ISBN-10: 1118745922
ISBN-13: 978-1118745922
43.79MB
Download
https://www.dropbox.com/s/c56er2hbr...Procedures-9E-Wiley-Blackwell (2015).pdf?dl=0
​