VideoGet 2.0.2.27 Download from ANY video website!


VideoGet is high performance online video download manager that lets you get most every video on the web!VideoGet
allows you to download videos directly to your computer from most online video sites and automatically convert it
to variety of video formats (avi, mpg, flv, mp4) in single or batch mode.
Which websites do we support?
We currently supports download from:
* YouTube,
* Google Video,
* AnimeEpisodes.net,
* Blennus,
* BestOfGoogleVideo,
* Glumbert,
* ThatVideoSite,
* ThatLiteVideoSite,
* TinyPic,
* TotallyCrap,
* PhotoBucket,
* Yikers,
* ZippyVideos and a lot more...
VideoGet features
* Downloads video from many online video websites. Click here to see full list of supported websites
* Converts video to variety of video formats (*.AVI, *.MPG, *.FLV, *.MP4)
* Script auto-updater allows you to be always in touch with latest version
* Download works through WinInet API, which is used by Internet Explorer, allows easy and fast download of Flash
movies
* Allows to download in batch mode with ability to save / load batch
* Automatically detects which online video service you are attempting to download from
* Ability to setup width / height of encoding video
* Ability to setup video / audio quality of encoding video
* Small and compact
* Designed with "Easy-to-Use" concept in mind, extremely easy to use
* Works on Windows NT/2000/XP/2003 Server.
* Works with all types of Internet connection
* Unlimited lifetime technical support
* Unlimited lifetime upgrades
http://mediafire.com/files/21548276/Vidget20227.rar
Virtual DJ Studio v5.3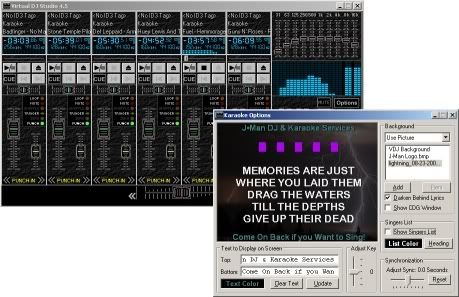 Virtual DJ Studio (VDJ) is an MP3 Mixer for live DJ performances. With it, you can Mix MP3 Files, play Karaoke with Multiple Monitor Support, use multiple Sound Cards, and adjust Pitch and Tempo on each file individually. VDJ also contains a full 10-band Graphic Equalizer, full support for Audio Plugins, a Spectrum Analyzer, integrated File Navigator, Playlist Editor and many more tools for DJs.
http://mediafire.com/files/21562285/Virtual_DJ_Studio_5.3.zip
or
http://www.megaupload.com/?d=U4YN0KQE
Pass : raiden7.uni.cc
Google Earth 4.0.2742 (The Latest)


Google Earth is a free-of-charge, downloadable virtual globe program. Want to know more about a specific location? Dive right in -- Google Earth combines satellite imagery, maps and the power of Google Search to put the world's geographic information at your fingertips.
Main Features:
* Fly from space to your neighborhood. Type in an address and zoom right in.
* Search for schools, parks, restaurants, and hotels. Get driving directions.
* Tilt and rotate the view to see 3D terrain and buildings.
* Save and share your searches and favorites. Even add your own annotations.
http://mediafire.com/files/21584269/GoogleEarthWin_EARD.exe
MediaMan v2.66.3


MediaMan is the ideal software to manage your media collection. It is not only a powerful tool to keep a digital catalog of all your books, videos, music, and games, but also an interactive jukebox that can enrich your digital entertainment life.
Managing a collection with MediaMan is a lot of fun. Featuring Amazon International importer, virtual shelf, tagging, barcode scanner, rental management, and fully customizable user interface, this little piece of program is fully loaded. And you'll never believe how easy it is to use it.
http://www.filefactory.com/file/289d64
or
http://www.megaupload.com/?d=2Z9P78MB
Pass : raiden7.uni.cc
NATURA Sound Therapy V2.0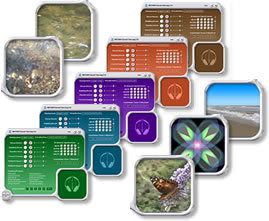 NATURA Sound Therapy v2.0 software features sounds of ocean waves, babbling brook, thunderstorm, forest evening and two ambient space music sounds. Each sound has its own volume control and sounds can be mixed with each other to form unique combinations. These nature sounds have been digitally recorded in stereo sound. NATURA also offers brainwave frequency patterns that can be added to the nature sounds or played on their own.
http://www.filefactory.com/file/214237
or
http://www.megaupload.com/?d=OFZ3B6U6
Pass : Ley@Ehoza
Portable Fox Video Converter 7.9.7.1


Fox Video Converter makes it easy for you to convert and split video files. Convert any multimedia file from any supported format (including AVI, ASF, WMV, MPG, MPEG, MOV, MP4, OGG, WAV, MP2, DivX) to another format. Convert one or more media files to DVD, iPod, PSP, and many other multimedia formats in one easy process with complete control of the size and quality. Besides, it supports DVD burning and create DVD menu. Version 7.9.7.1 enhances video quality in PSP video format; increases stability of converting process; fixes few bugs.
http://mediafire.com/files/21594766/Portable_FOX_Video_Converter-7.9.7.1.rar
Canopus MPEGCraft 3 DVD v3.04 (Retail)


MPEGcraft DVD gives users frame-accurate MPEG editing capabilities and eliminates lengthy encoding times by reencoding only the edited segments of the video clip. Once an MPEG sequence is edited, MPEGcraft DVD's authoring capabilities can burn directly to a disc or generate the necessary system files for future DVD authoring. With MPEGcraft DVD, users can manually insert chapter points or automatically create chapter points according to clip changes within the video. DVD titles can also be authored to repeat playback indefinitely, which is ideal for advertising kiosks, video displays and information booths.
MPEGcraft DVD supports Storm Encoder, the hardware MPEG encoder found on the Canopus DVStorm2 nonlinear editing solution, including the new DVStorm2 Pro+, allowing for realtime MPEG encoding directly from the MPEGcraft DVD timeline to a wide range of DVD-R/DVD-RW writers. MPEGcraft DVD also includes To MPEG Tool, a handy utility that provides high-quality MPEG encoding options, such as multiplexing and demuxing, for existing video files; MPEG reencoding options, including upscaling of MPEG-1 to MPEG-2; and DV AVI-to-MPEG encoding. MPEGcraft DVD supports Windows 2000 Professional (SP2 or higher) and XP Home/XP Professional.
Download:
http://mediafire.com/files/21616886/G4RCMCTDVTZFRG4RG4R.part1.rar
http://mediafire.com/files/21616851/G4RCMCTDVTZFRG4RG4R.part2.rar
http://mediafire.com/files/21619005/G4RCMCTDVTZFRG4RG4R.part3.rar
http://mediafire.com/files/21618635/G4RCMCTDVTZFRG4RG4R.part4.rar
WinXP Manager v5.1.0 (Working Key)


WinXP Manager is a tool for setting, optimizing, diagnosing and tweaking Windows XP. It includes more than 28 different tools that will let you teak and optimize your system. You can tweak memory and CPU settings, customize IE settings, find and remove junk files, check and repair your registry, control startup programs, optimize your connection speed, validate your Favorites and much more. It also includes an Auto-Optimization option, that allows less experienced users to easily optimize certain settings, using a wizard. The interface is easy to use and all available options are categorized into sections. Includes basic documentation and an annoying nag screen that pops up every few minutes.
Download:
http://mediafire.com/files/21618547/G4RG4RWXMVFOZG4RG4R.rar
Mirror:
http://mediafire.com/files/21618623/MirrorG4RG4RWXMVFOZG4RG4R.rar
PhotoDex ProShow Gold v3.0.1935


ProShow Gold 3.0 is the complete slide show software solution for sharing your best memories on DVD, PC, and the Web!
Bring still photos to life by adding motion effects like pan, zoom, and rotate. Add captions to a photo or video and choose from over 280 exciting transition effects. It's easy to tell your story with ProShow Gold 3.0.
Create and Share Slide Shows
Create your show once and have the freedom to watch it anywhere! ProShow Gold outputs to eleven different formats, including DVD, CD, EXE, Flash, HD Video, and more!
Bring Photos to Life
Add motion effects like pan, zoom and rotate to any photo on a slide. Zoom in to a point of interest or pan across a panoramic image! It's easy to do with Proshow Gold 3.0.
Easy to Use
ProShow Gold 3.0 offers you faster DVD/CD rendering, PC playback, and superior output quality.
Download:
http://mediafire.com/files/21631010/G4RPPSGVTZONTFG4R.part1.rar
http://mediafire.com/files/21630711/G4RPPSGVTZONTFG4R.part2.rar